7 Triangle 7 History
The beginning of 7 Triangle 7 Cattle Co. dates back to 1934 when W.H. Miller sent his son (14 year old Harold Miller – later to be Harold Miller, Sr.) and a brother to establish a new farm for the family in Colorado. The family needed to move to a "higher and dryer" climate for the health of his wife Eliza, who annually battled pneumonia at their southeast Nebraska location.
W.H. "Bill" Miller soon founded a commercial cattle herd along with substantial wheat farming acres. The premise for the cattle was to make them be "good-uns". Bill Miller had the foresight that if he was going to use the best bulls he could, then he needed to "retain ownership" and sold the cattle as "fats" through the old Denver stockyards commission company, John Clay & Co. It was always an "Akron event" when Bill Miller was shipping "fats" to Denver, with other cattlemen wanting to see how good they were for that year and the cattle consistently topped the market.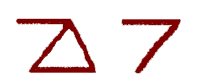 The 7 Triangle 7 brand was acquired by Harold Miller, Sr. in 1945 when he returned home from serving in the Army-Air Corp in England during World War II. He and Phyllis married and started their own operation, ¼ mile from the current home of 7 Triangle 7. The 7 Triangle 7 was an original homestead brand in Washington County, Colorado where it continues to be used by the Millers.
Harold Miller, Jr. has been "co-using" the brand since he bought his first calf with his own money in 1952. Since returning home from Viet Nam in 1971, Harold Miller has been engaged in some facet of the livestock industry. The "brand" has since been worn by stockers, commercial cows and calves, and registered seedstock – Angus and Hereford. When Harold and Cheryl's son Mark started raising and showing his own registered cattle, he also became a co-owner of the brand with Harold Miller, Sr. and Harold & Cheryl Miller. The original "home place," founded by "Bill" Miller, is just across the section from the current 7 Triangle 7.
Quality has always been paramount with the Miller's and today that includes a lot of data from the breed databanks to analyze along with visual appraisal.